●
DENNE ARTIKEL ER SAMPUBLICERET MED JAMES BOND•O•RAMA.DK
Ole Stephensen fortæller om den dag i 1989, hvor han instruerede og spillede over for Clifton James – bedre kendt som sherif J.W. Pepper i James Bond-filmene
I lørdags, 15. april 2017, sov
Clifton James
stille ind i Oregon, USA. Den amerikanske skuespiller var kendt af James Bond 007-fans for sin komiske birolle som røvballesheriffen J.W. Pepper i
Roger Moore
s to første Bond-film, "Lev og lad dø" (Live and Let Die, 1973) og "Manden med den gyldne pistol" (The Man with the Golden Gun, 1974).
Modsat vores norske og svenske nabolande har kun få medier i Danmark fundet det værd at nævne den 96-årige skuespillers bortgang. Clifton James' cameorolle i folkekomedien "Walter & Carlo i Amerika" fra 1989 ligner ellers en decideret foræring til redaktionssekretærer med løstsiddende danskervinkel.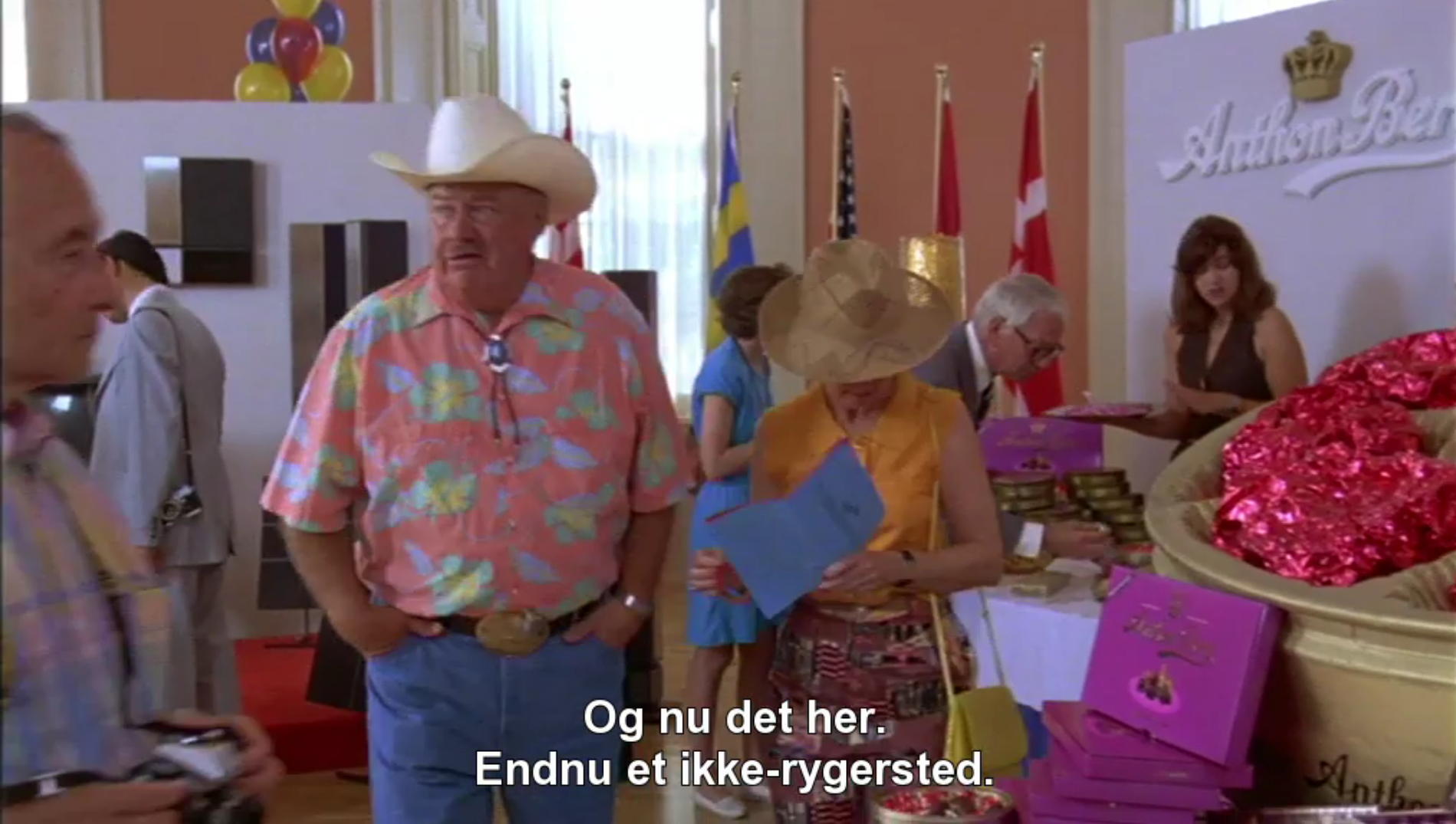 Clifton James i "Walter & Carlo i Amerika" (1989) - framegrab
Clifton James dukker op en time og seks minutter inde i "Walter & Carlo i Amerika", hvor han spiller texaneren John D. Donut (i slutteksterne blot kaldet "Tex"). Han besøger en skandinavisk udstilling i New York City og brokker sig højlydt til sin kone over at blive slæbt med på endnu et museum, hvor han – "en gammel marinesoldat" – ikke engang må ryge. Figuren, der er klædt i spraglet skjorte, cowboyslips og cowboyhat, adskiller sig ikke stort fra J.W. Pepper, som han tydeligvis skal minde om.
I sit ene, korte bidrag til dansk filmhistorie optræder Clifton James over for
Ole Stephensen
(Walter) og
Jarl Friis-Mikkelsen
(Carlo). Parret både skrev og instruerede denne tredje film i serien om Walter von Heimweh, den nydelige steward, og hans dominerende ven, hælebarsejeren Carlo Jensen.
"Jarl og jeg skrev rollen med Clifton James i tankerne," bekræfter Ole Stephensen over for James Bond•O•Rama.dk.
"Vi valgte ham netop ud fra hans medvirken i Bondfilmene. Hans varemærke var den her skråtyggende, gammelkloge
smartass
af en sydstatssherif, og det var den accent og attitude, den karikatur, vi var ude efter," siger Ole Stephensen.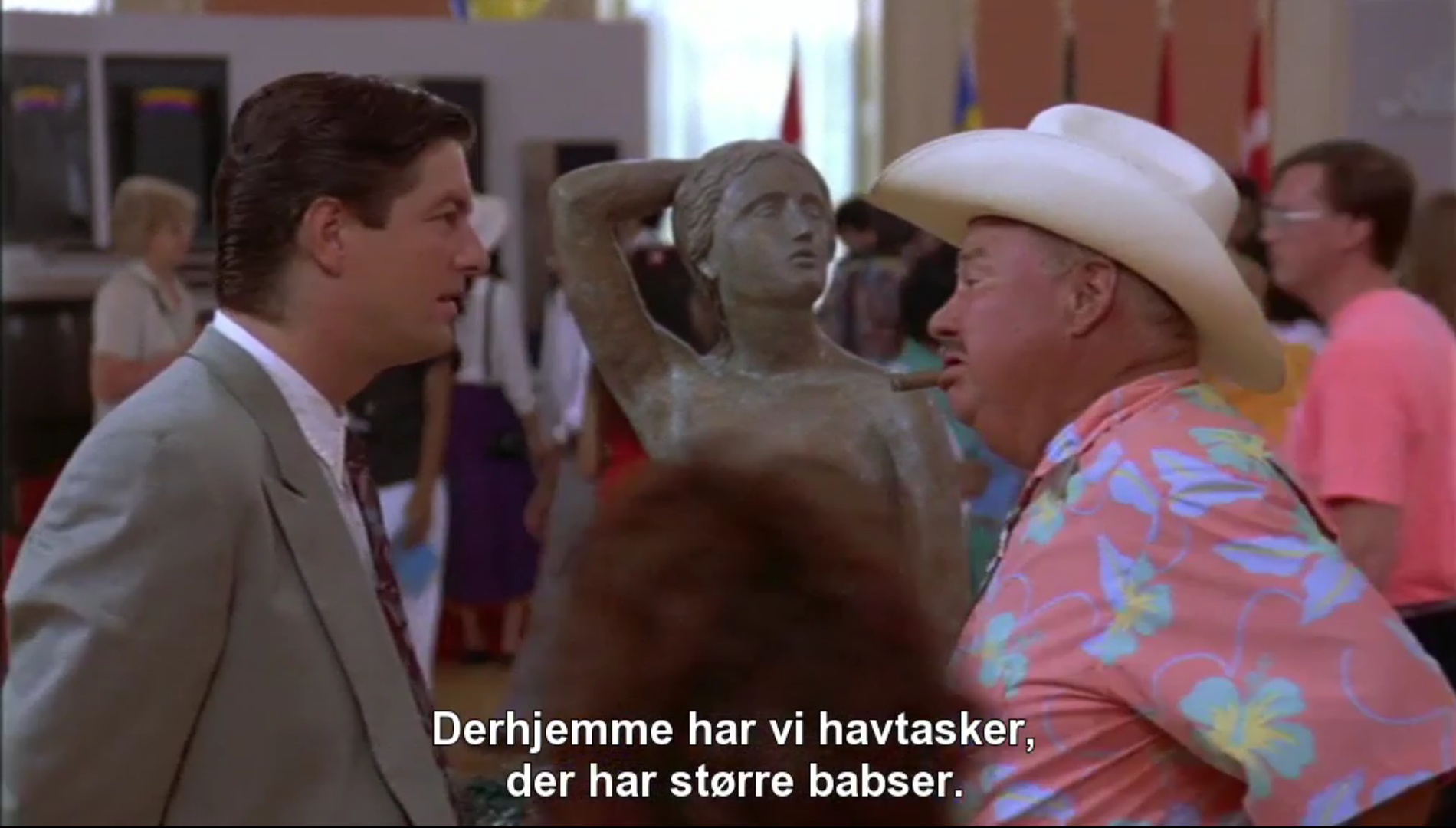 Ole Stephensen og Clifton James i "Walter & Carlo i Amerika" (1989) - framegrab
"Det er jo ikke en kæmpe rolle, han har – han var bare med på en enkelt optagedag – så det var ikke hamrende vigtigt, at Clifton James sagde ja. Men vi syntes, det var sjovt, netop fordi mange i 1989 stadig havde den reference til ham fra de to Bond-film. Det var i princippet sheriffen fra Bond-filmene, der af en eller anden grund var på ferie i New York og havde forvildet sig ind på den udstilling," fortsætter Ole Stephensen.